Last Week in Review


"WORK, WORK, WORK...IT'S A LABOR OF LOVE." The words to Sammy Kershaw's country song sound pretty good right now to a number of Americans...much better, in fact, than the recent employment numbers do.
Last week, the Labor Department's Jobs Report didn't show much love for US workers. As you can see in the chart below, the Labor Department reported 263,000 jobs lost in September, which was quite a bit worse than expectations. Compounding the bad news was an up-tick in the unemployment rate to 9.8% as well as downward revisions to prior Jobs Reports, showing an additional 13,000 jobs lost in July and August.
Also within the Jobs Report were declines in the Average Workweek and in Average Hourly Earnings, both of which came in below expectations. The shortening of the Average Workweek may be telling us that the amount of people forced to accept part time work is growing. The decline in the Average Hourly Earnings underscores the weakness in the labor market, as it indicates that companies have no pressure to raise wages...particularly with unemployment near 10%. An improvement in Hourly Earnings will likely give us the first sign of labor recovery, so this will be important to watch in upcoming Jobs Reports.
-----------------------
Chart: Jobs Report for September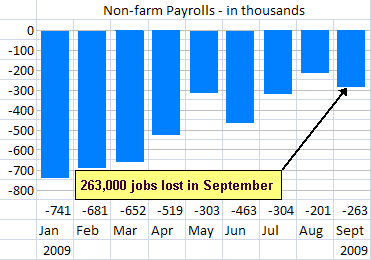 Personal Spending was also reported last week, indicating that spending rose in August at its fastest monthly pace in almost 8 years! And while the news appears to be good for the economy, we have to take it with a grain of salt, since a large part of that spending was the result of the "Cash for Clunkers" vehicle purchasing incentive program, which is no longer in effect.
Finally, the housing industry received some good news last week, as Pending Home Sales were up significantly at 6.4%, which was far above expectations. Some of the increase is likely due to folks working fast to take advantage of the $8,000 First-Time Homebuyer Tax Credit, which is currently set to expire on November 30th...and be sure to ask me about this, if you or any of your friends, family members, neighbors or coworkers could benefit from this great incentive. The Case-Shiller Home Price Index also came out last week with news that home prices fell less than expected. The report, which looks at the 20 largest cities, also showed that only 2 cities (Las Vegas and Seattle) experienced price declines when compared to the previous month. Overall, the numbers appear to indicate that the worst of the housing price declines may be behind us.
SPEAKING OF THE HOME, IF YOU HAVE AN EXTRA ROOM THAT YOU'VE BEEN CONSIDERING TURNING INTO A HOME OFFICE, TAKE A LOOK AT THE MORTGAGE MARKET GUIDE VIEW ARTICLE BELOW. YOU'LL FIND TIPS TO MAKE SURE YOU GET THE MOST OUT OF YOUR SPACE AND CREATE AN OFFICE THAT'S COMFORTABLE AND EFFICIENT.
Forecast for the Week


There are only a few economic reports due out this week, but that doesn't mean it won't be an exciting week. The action kicks off with the ISM Services Index on Monday morning. This report is typically less of a market mover than the ISM Manufacturing Index that came out last week, but with so few reports due out this week, the markets may be watching it closely.
Thursday will bring another weekly Initial Jobless Claims report. This weekly report continues to be important to watch as the job market plays a key role in our economic recovery. In last week's report, Initial Jobless Claims increased by 17,000 to 551,000-which was higher than the 535,000 expected. Such huge numbers underscore the weakness in the labor market.
Finally, on Friday the Balance of Trade for August will be reported. Expectations are that the trade deficit will be reported at -32.9 Billion. Remember, a negative balance of trade-or a trade deficit-occurs when imports surpass exports.
Despite the small number of economic reports, the markets may see some volatility as the Treasury Department auctions off longer-term maturities this week, which are competitive with Mortgage Backed Securities. With the Fed scaling back their purchases of Mortgage Backed Securities, there may be less support for Mortgage Bond prices, so this week's auction could result in more of a wild ride than previous auctions.
Remember: Weak economic news normally causes money to flow out of Stocks and into Bonds, helping Bonds and home loan rates improve, while strong economic news normally has the opposite result. Last week, Stocks closed lower, and the Dow marked its worst week since mid-June. However, as you can see in the chart below, Mortgage Bonds finished the week at levels not seen since May 21, pushing home loan rates to near historic lows.
Chart: Fannie Mae 4.5% Mortgage Bond (Friday Oct 02, 2009)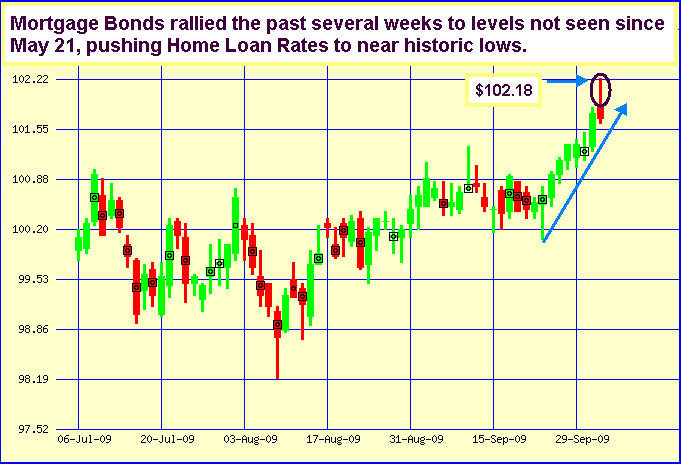 The Mortgage Market View...


Creating the Perfect Home Office
These days, more and more people are working all or part of the time from home, making a home office a necessity. Here are some tips for creating the perfect home office.
Layout - There is no bigger mistake you can make than purchasing office furniture or equipment without knowing exactly where you'll be placing it in the room. Before you buy any new furniture, make sure you measure and plot where each piece will go, and don't forget to account for electrical and cable outlets.
Furniture - A desk that's roughly 60-inches wide, 30-inches deep, and 29-inches high is not only conducive to work, but it's highly functional in terms of storing the items you use regularly. Your chair should be comfortable, but its primary function should be to promote healthy posture. Good posture will facilitate strong mental focus and will help to alleviate back and neck pain.
Lighting - Don't underestimate the importance of quality lighting. If you're lucky enough to have a window in your office, this should serve as your primary light source during the day. Natural light is easy on the eyes and promotes physical energy as well as a good mood. It's also free. Large lights like floor lamps and ceiling lights should have the ability to be dimmed. Also, make sure your desk lamp is equipped with a light bulb that's easy on the eyes. These "soft" light bulbs can be found anywhere, from office supply stores to grocery stores.
Storage - Identifying the type of items you need to store, as well as the quantity, will help you to determine an appropriate course of action. Here are a few helpful hints.
Closets are great for storage. Not only can they house filing cabinets, but they are also perfect for storing the items you don't need to access on a regular basis. This helps to maximize the actual workspace of your office.

Shelving is one of the most versatile options for storage. Shelves can be purchased cheaply and come in a variety of sizes. They are easily installed and take up zero floor space.

Don't forget about your garage. When it comes to older files or anything that is rarely accessed, a garage can provide ample storage space. Word to the wise, however, the garage can be a dirty place. Plan accordingly by storing paper items in boxes and wrapping equipment in protective plastic.

Visit a store that's dedicated to home organization. Nowadays it seems like nearly every mall has a store of this kind. You'd be surprised at some of the inexpensive, space-saving storage options available.
Wall Organizers - Dry erase boards, chalkboards, corkboards, and magnetic boards are fantastic tools for keeping clutter off your desk. They are inexpensive and available everywhere in a variety of sizes. There are even combination boards that provide countless options.
Cords - Never underestimate the importance of power strips as they provide the ability to plug multiple devices into one outlet. The better power strips also provide surge protection to the equipment that's plugged into them. In addition, cord covers are a great way to not only hide cords but to keep them from becoming a tangled mess. They can be purchased quite cheaply at any electronics store.
Décor - Last but not least, once you've got all the necessities in, don't overlook decor. Certificates, diplomas, awards, trophies, and pictures not only complement an office, but they also help to personalize it.
Follow these simple steps, and more organization, function, and focus could be right around the corner.
The Week's Economic Indicator Calendar

Remember, as a general rule, weaker than expected economic data is good for rates, while positive data causes rates to rise.
Economic Calendar for the Week of October 05 - October 09
| | | | | | | | |
| --- | --- | --- | --- | --- | --- | --- | --- |
| Date | ET | Economic Report | For | Estimate | Actual | Prior | Impact |
| Mon. October 05 | 10:00 | ISM Services Index | Sept | 50.0 | | 48.4 | Moderate |
| Wed. October 07 | 10:30 | Crude Inventories | 10/02 | NA | | 2.80M | Moderate |
| Thu. October 08 | 08:30 | Jobless Claims (Initial) | 10/03 | 550K | | 551K | Moderate |
| Fri. October 09 | 08:30 | Balance of Trade | Aug | -$32.9B | | -$32.0B | Moderate |
The material contained in this newsletter is provided by a third party to real estate, financial services and other professionals only for their use and the use of their clients. The material provided is for informational and educational purposes only and should not be construed as investment and/or mortgage advice. Although the material is deemed to be accurate and reliable, we do not make any representations as to its accuracy or completeness and as a result, there is no guarantee it is not without errors.
As your trusted advisor, I am sending you the MMG WEEKLY because I am committed to keeping you updated on the economic events that impact interest rates and how they may affect you.
If you prefer to send your removal request by mail the address is:
Meghan Knoy
115 E Goodwin Street Suite C
Prescott, AZ 86303
Mortgage Success Source, LLC is the copyright owner or licensee of the content and/or information in this email, unless otherwise indicated. Mortgage Success Source, LLC does not grant to you a license to any content, features or materials in this email. You may not distribute, download, or save a copy of any of the content or screens except as otherwise provided in our Terms and Conditions of Membership, for any purpose.