Last Week in Review


"I'M ON MY WAY...JUST SET ME FREE...HOME SWEET HOME." The lyrics from Mötley Crüe's Home Sweet Home sound a lot like something the housing industry might have sang last week, after the Commerce Department reported that the number of Housing Starts in August came in better than expected.
As you can see in the chart below, Housing Starts have fallen significantly since June 2008, but in last week's report, they broke free to come in at their highest level since last November. Building Permits were a bit lower than expectations, but the overall report suggests that while we're not entirely out of the woods yet, the worst in the housing market may have passed and that the industry may be on its way to stabilizing.
-----------------------
Chart: Housing Starts in August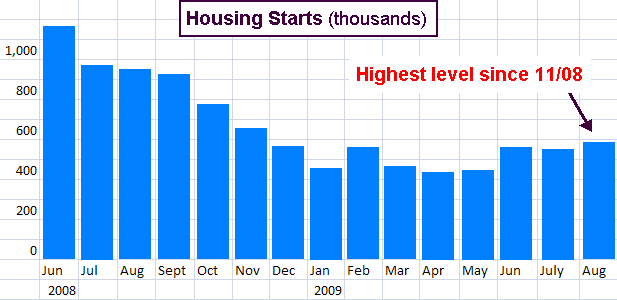 Inflation was also in the news last week. On Tuesday, the Producer Price Index came in more than double expectations, prompting fears of wholesale inflation. However, since wholesale inflation isn't always passed on to consumers, the markets anxiously awaited the Consumer Price Index (CPI). CPI is an important measurement of inflation because it actually measures the average prices paid by consumers for goods and services, which is where the real inflation concerns come in. According to last week's report, CPI came in just slightly higher than expectations.
Remember, inflation is the archenemy of Bonds and home loan rates, and it is said that "rates are the boat that floats on the sea of inflation", meaning when inflation rises, home loan rates will move higher as well. With the recession appearing to be bottoming out and with an unprecedented amount of government spending over the past year, there are fears that inflation - and therefore home loan rates - may be on the rise soon. If you are in the market to purchase or refinance, this is an important aspect to keep an eye on. Call me if you want to discuss presently low rates, and how they might fit into your plans.
The $8,000 tax credit for First Time Home Buyers was also in the news again last week. White House Spokesman Robert Gibbs said that the administration is evaluating the program and the effect it has had on home sales and will soon make a recommendation to the President. Although there's been talk and speculation regarding the expansion of this program, as of now, potential buyers must complete their first-time home purchases before December 1 to qualify for the special credit.
Overall, Bonds and home loan rates saw some nice gains early last week, but finished just slightly worse than they began, as Stocks closed at highs for 2009 and pulled some money away from Bonds. Whether Bonds can climb back up this week will depend not only on the economic reports due out, but also on how well the markets receive the incoming round of 2-year, 5-year, and 7-year Note auctions.
SPEAKING OF THINGS THAT ARE DUE SOON, DID YOU REALIZE THE HOLIDAY SEASON IS JUST A COUPLE OF MONTHS AWAY? TAKE A LOOK AT THE MORTGAGE MARKET GUIDE WEEKLY VIEW ARTICLE BELOW TO FORM A PLAN NOW, AND MAKE SURE THIS HOLIDAY SEASON IS AS HAPPY FOR YOUR WALLET AS IT IS FOR YOUR FAMILY AND FRIENDS.
Forecast for the Week


This week is chock full of economic news for the market to digest. First, we'll hear from the Fed with the Federal Open Market Committee (FOMC) policy statement and interest rate decision to be released after their upcoming meeting ends on Wednesday. Although the Fed hasn't made any policy changes as of late, the Fed's statements are still closely watched by the markets for any comments or concerns on matters such as inflation.
Considering last week's news that Housing Starts for August came in better than expected and at the highest level since last November, we'll gain more insight on the health of the housing industry when reports on Existing Home Sales and New Home Sales for August are released on Thursday and Friday respectively.
Also on tap this Friday is the Durable Goods Orders report. Durable Goods Orders are considered a leading indicator of manufacturing activity, and the market often moves on this report. However, the volatility and large revisions that are sometimes made to past reports make this a less-than-perfect indicator.
Finally, we'll see the Consumer Sentiment Index for September this Friday. Although consumer sentiment does not correlate strongly with consumer spending, the markets will be watching to see if this month's reading hits expectations of 70.0.
Mixed in with these reports will be another round of 2-year, 5-year, and 7-year Note auctions. Recent auctions have been fairly well received and have helped support Bond prices, so I'll be watching closely to see if this trend can continue this week, or if Bond prices and home loan rates will worsen in response to the enormous supply hitting the market.
Remember: Weak economic news normally causes money to flow out of Stocks and into Bonds, helping Bonds and home loan rates improve, while strong economic news normally has the opposite result. As you can see in the chart below, Bonds were pushed lower by technical resistance at the 200-Day Moving Average, as well as the announcement of this week's record sized Treasury auction.
Chart: Fannie Mae 4.5% Mortgage Bond (Friday Sep 18, 2009)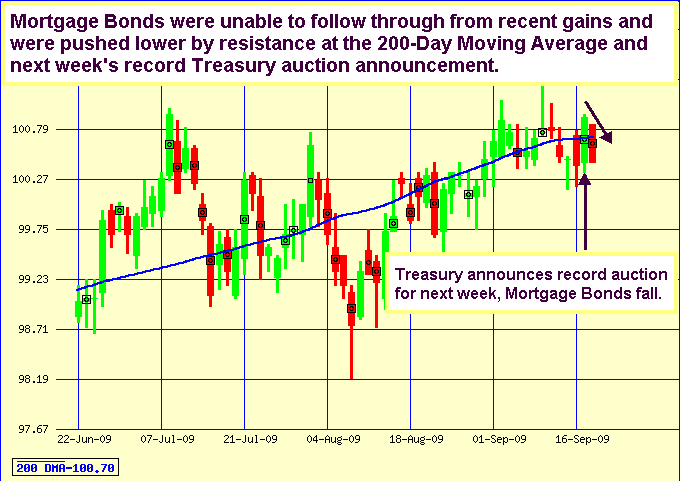 The Mortgage Market View...


Budgeting for the Holidays...It's Never Too Early to Start
It's hard to believe, but Thanksgiving is just two months away. And while that may seem like a lot of time, you'll be diving into that turkey dinner sooner than you think...and right around the corner will come the Christmas holidays. That's why now is the perfect time to start planning for your holiday budget. By formulating a plan now, you'll achieve more than just the happiest of holidays. You'll ensure that the New Year will begin without worries of too little cash flow or too much debt. Here's how.
Learn from the Past
The best place to begin when it comes to planning for this year's holiday spending is to examine what you did last year. Dig up the credit card receipts and checkbook registers, and add up how much money you spent. You'll also want to take notes regarding where you spent it. Don't forget to include money used to purchase gift wrapping supplies, cards, postage, food while shopping, entertainment costs, and special-occasion clothing.
Now that the numbers are in front of you, it's time to form an opinion. How do you feel about last year's spending? Did you spend a realistic and appropriate amount, or did you go overboard? Try to be objective. This analysis will serve as the backbone of your plan.
Look at the Present...Pun Intended
Financially speaking, how have you fared this year compared to last year? Be sure to look at any changes in income as well as expenses. If your finances haven't changed and you're happy with last year's spending, then you're starting off in very good shape. If your overall financial status has declined, or if you were less-than-pleased with last year's performance, then you've got some work to do.
Begin by looking at the number of purchases you made a year ago. Which ones would you make again and which ones have you scratching your head? It may be time to reduce your gift-buying list or change the amount you spend on each purchase. The obvious way to accomplish this is to be less extravagant with your selections. A less obvious but often effective approach is to research your potential purchases. Sometimes you end up paying extra for the convenience of one-stop shopping, so look through the newspaper to find which stores are offering deals. Then look on the Internet to see if you can beat their prices by purchasing online. This practice will cut down on last-minute shopping which can be an expensive proposition.
Look Toward the Future
So, you've figured out how many purchases you need to make as well as which ones need scaling back in terms of price. Now it's time to create a budget. Once again, there is no magic formula. Creating a budget and sticking to it requires two main things: common sense and commitment. Let's take a closer look.
A budget should always be based on the money you have, not the money you can borrow. If you are still paying off charges from last year, then you need to avoid using credit cards to make gift purchases this year. The amount of money you decide to allocate toward holiday spending should be based solely on what you've saved or what you will save from now until the time you start shopping.
When drafting your budget, start by creating a list of recipients, along with columns for the gifts you intend to buy and the dollar amounts you expect to spend. As you make purchases, keep track of the results. If you overspend on one gift, it is imperative that you make it up somewhere else. Your diligence is one of the keys to staying within your budget.
It's also important that you watch out for potential pitfalls, including impulse shopping. Getting into the spirit of the holidays is one thing, but spending frivolously based upon a last minute decision is something else. You've got a list, and your job is to stick to it!
One final thing that may need an adjustment is your overall philosophy. It's easy to look at the budget you've created as a restriction. After all, it's nothing more than a set of rules. The flip side is that these rules are there for your protection. Sticking to them will not only help your feel comfortable about your finances before and after the holidays, it will free you from the stress that comes from accumulated debt. When you look at it this way, a budget can be downright liberating. Give yourself the gift of a financially stress free holiday, by planning in advance.
The Week's Economic Indicator Calendar

Remember, as a general rule, weaker than expected economic data is good for rates, while positive data causes rates to rise.
Economic Calendar for the Week of September 21 - September 25
| | | | | | | | |
| --- | --- | --- | --- | --- | --- | --- | --- |
| Date | ET | Economic Report | For | Estimate | Actual | Prior | Impact |
| Mon. September 21 | 10:00 | Index of Leading Econ Ind (LEI) | Aug | 0.7% | | 0.6% | Low |
| Wed. September 23 | 10:00 | Crude Inventories | 9/18 | NA | | -4.73M | Moderate |
| Wed. September 23 | 02:15 | FOMC Meeting | Sept | NA | | 0.25% | HIGH |
| Thu. September 24 | 08:30 | Jobless Claims (Initial) | 9/12 | 550K | | 545K | Moderate |
| Thu. September 24 | 10:00 | Existing Home Sales | Aug | 5.35M | | 5.24M | Moderate |
| Fri. September 25 | 08:30 | Durable Goods Orders | Aug | 0.3% | | 5.1% | Moderate |
| Fri. September 25 | 10:00 | Consumer Sentiment Index (UoM) | Sept | 70.5 | | 70.2 | Moderate |
| Fri. September 25 | 01:00 | New Home Sales | Aug | 440K | | 433K | Moderate |