For the week of Mar 09, 2009 --- Vol. 7, Issue 10
Last Week in Review


"A good objective of leadership is to help those who are doing poorly to do well…And to help those who are doing well to do even better." — Jim Rohn. Let's hope that some of the actions that the Obama Administration took last week — intended to help millions of US homeowners — will show that kind of leadership for our country, as last week's Jobs Report and Stock Market losses showed that help is certainly needed.
Wednesday brought more details on the new "Making Home Affordable" program, which was created to help as many as 7 to 9 million homeowners who are making every effort to remain current on their mortgage payments. There are two important parts of this plan: The first of these is a program that is available to homeowners who have a solid payment history on an existing home loan owned by Fannie Mae or Freddie Mac, but who have been unable to take advantage of today's favorable rates because their homes have lost value. A second program, which involves loan modification, will help at-risk homeowners avoid foreclosure by reducing monthly payments.
Making it tougher for many to keep up with house payments, Friday's Jobs Report showed that 651,000 US jobs were lost in February, while revisions for the past two months showed that an additional 161,000 were jobs lost between December and January. December's decline was the largest since 1949. What's more, the US economy has now lost almost 4.4 Million jobs since the recession began in December 2007, which is the biggest employment malaise of any economic downturn in the postwar period. In addition, the unemployment rate soared to 8.1% versus expectations of 7.9%, the highest rate in over 25 years, as you can see in the chart below.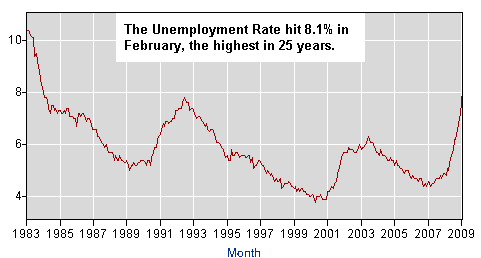 In other news from last week, the Dow fell below 7,000 for the first time since 1997, due to continued negative economic reports and headlines hitting the wires. Bonds and home loan rates were able to make some improvements last week as Stocks fell, and as a result, the week ended with Bonds and home loan rates slightly better than where they began.

At least we've got sunshine...And you know that daylight savings time happened on Sunday, March 8th. But do you know we're enjoying the extra daylight three weeks earlier than we used to? Learn why in this week's view below.
Forecast for the Week


The week ahead is a quiet one when it comes to scheduled economic reports being delivered, but with last week's plunge in the Stock market and the details of the Making Home Affordable program still being analyzed, it's unlikely the week ahead will be quiet overall.
In the way of economic news, Thursday will bring the Retail Sales Report for February. Consumers continue to rein in spending and many retailers continue to struggle, so it wouldn't be a surprise if this is a horrible report. It also wouldn't be a surprise for Friday's Consumer Sentiment Report to be a bit dismal as well. And given the current job market, Thursday's weekly Jobless Claims Report will be another one to watch.
Remember: Weak economic news normally helps Bonds and home loan rates improve, as money flows out of Stocks and into Bonds. As you can see in the chart below, Bonds and home loan rates reversed course and improved last week…and if the above mentioned reports are indeed negative, Bonds and home loan rates could build on their recent improvements during the coming week.
Chart: Fannie Mae 4.5% Mortgage Bond (Friday Mar 06, 2009)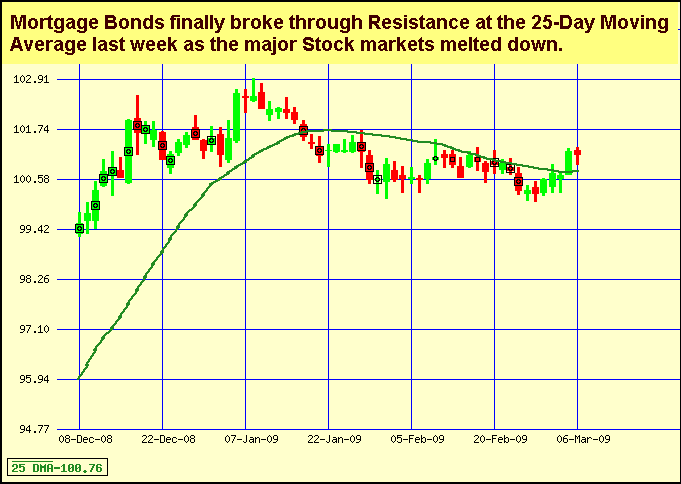 The Mortgage Market View...


Daylight Saving Time (DST) began on Sunday, March 8, 2009. The way we refer to time zones also changes. For example, Eastern Standard Time (EST) becomes Eastern Daylight Time (EDT).
But remember, some areas of the United States don't use DST, such as Arizona, Puerto Rico, Hawaii, the US Virgin Islands and American Samoa.
More Sun… Daylight Saving Time Runs Longer
In case you hadn't noticed over the last two years, DST now begins earlier and runs longer. The extra time that we enjoy is actually the result of the Energy Policy Act, which President Bush signed into law in 2005 and went into effect in 2007. The Act changed the start date of DST to the second Sunday in March — three weeks earlier. It also moved the end date out one week to the first Sunday in November.
Benefits of Daylight Saving Time
Despite some concerns, Americans overwhelmingly like Daylight Saving Time. There is simply more sunlight in the evenings to enjoy the outdoors and get things done. Plus, additional hours of daylight can help save energy on a national scale — as much as 100,000 barrels of oil per day according to some estimates.
And brighter is safer. Studies have shown that the DST shift reduces traffic accidents. Additionally, a study by the US Law Enforcement Administration also determined that crime is consistently lower during DST, with violent crimes down as much as 10% to 13%. For many crimes, like mugging, darkness is a factor — so more light in the evening hours reduces these types of crimes.
Cons of Daylight Saving Time
Not everyone benefits from DST. For example, many farmers say that DST has a negative impact on their livestock's natural schedules. The airline industry also reports that it costs millions of dollars to adjust time schedules — and even then, airlines report numerous problems with international flight connections during the transition time since DST isn't followed uniformly worldwide.
Finally, since many electronic devices and computer programs are set to adjust to DST based on the old dates, they may not change automatically on March 8. So, you'll want to double-check all of your devices and confirm that the time is correct.
The Week's Economic Indicator Calendar

Remember, as a general rule, weaker than expected economic data is good for rates, while positive data causes rates to rise.
Economic Calendar for the Week of March 09 – March 13
| | | | | | | | |
| --- | --- | --- | --- | --- | --- | --- | --- |
| Date | ET | Economic Report | For | Estimate | Actual | Prior | Impact |
| Wed. March 11 | 10:30 | Crude Inventories | 3/06 | NA | | -757K | Moderate |
| Thu. March 12 | 08:30 | Jobless Claims (Initial) | 3/07 | 640K | | 639K | Moderate |
| Thu. March 12 | 08:30 | Retail Sales | Feb | -0.4% | | 1.0% | HIGH |
| Thu. March 12 | 08:30 | Retail Sales ex-auto | Feb | -0.2% | | 0.9% | HIGH |
| Fri. March 13 | 08:30 | Balance of Trade | Jan | -$38.2B | | -$39.9B | Moderate |
| Fri. March 13 | 10:00 | Consumer Sentiment Index (UoM) | Mar | 56.3 | | 56.3 | Moderate |
Meghan Knoy
115 E Goodwin Street Suite C
Prescott, AZ 86303