| | |
| --- | --- |
| | |
| | |
Mileage Rates Rise Due to High Gas Prices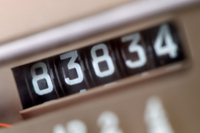 Do you drive a car, truck or van for work? If so, it's important to note that as of July 1, you're able to get an additional 4.5 cents per mile.
Businesses = 55.5 cents per mile driven (up from 51 cents through June)

Medical or moving = 23.5 cents per mile driven (up from 19 cents through June)
The Internal Revenue Service (IRS) increased the mileage rate in response to the recent high gas prices. These mileage rates are used to calculate deductible costs for driving an automobile for business, medical and moving purposes.

NOTE: The rate for driving that is related to charities remains unchanged at 14 cents per mile, since that rate is set by a statute.

Make Sure You Qualify
Before you calculate your deduction, make sure you qualify. The IRS reminds taxpayers that they cannot use the standard mileage rate for a vehicle after using any depreciation method under the Modified Accelerated Cost Recovery System (MACRS) or after claiming a Section 179 deduction for that vehicle.

Additional Option
Although the IRS provides the standard mileage rate for ease and convenience, you're not required to use it. If you prefer, you can calculate the actual costs of using your vehicle instead of using the standard mileage rates.

Remember – if you have questions or concerns, talk to a tax consultant or accountant to discuss your options and unique situation. You can read the official release in the IRS' Announcement 2011-40.
Clip Your Way to Savings
3 Easy Ways to Save with Coupons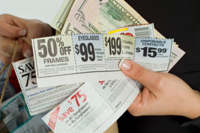 How often do you find yourself leaving a store with a big grocery bill–but not a lot of groceries in your cart to show for it?

If you want to have a spring in your step–and more money in your wallet–the next time you leave the grocery store, try these tips:

1. Don't wait for your Sunday paper. You can find over 100 coupons in at least two inserts that are included in most Sunday papers. But you don't have to wait for your Sunday paper. Instead, you can visit the Sunday Coupon Preview website to read the insert schedule and sign up for an email alert to get advance notice of what coupons are going to be featured in the next Sunday paper.

2. Ask your grocer to match competitors' prices. Most, if not all, major grocers will match competitors' prices. Instead of dashing to different stores, spending additional money on gas, bring competitor advertisements to your grocer and ask them to match the prices on featured items or items on sale.

3. Print coupons from the comfort of your home. Websites like SmartSource.com ask you to enter your zip code and then display a list of ready-to-print coupons. You can print the entire list of coupons or select individual coupons to print. You can even narrow your search down by category and brand.

For some people couponing is an extreme sport, but if that's not for you there are still savings to be had in just doing the simple things above. Happy shopping!
Infected Apps Lead to Smart-Phone Scams
You may be downloading trouble with infected apps.
By Susannah Snider, Kiplinger.com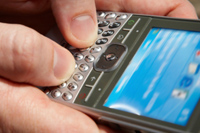 The growing popularity and functionality of smart phones is presenting a tempting target for cybercrooks. Recently, an outbreak of malware (short for "malicious software") infected thousands of Android phones after users downloaded a seemingly innocuous app from the Android Market.

This time, Google, which developed the Android operating system, wiped the threat from infected phones. But don't expect hackers to back off. "They can access your contact list, e-mails, mobile-banking account login information," says John Sileo, author of Smartphone Survival Guide: Ten Critical Security Tips in Ten Minutes. "They can act on your behalf; they can become you."

Signs that your phone is infected may include decreased battery life and slow performance. Fishy calls and texts on your phone bill are a dead giveaway. To find trustworthy apps, experts recommend downloading from reliable sources, such as the Apple Store, Amazon and the Android Market – exceptions such as the infected application notwithstanding.

For extra coverage, download free mobile security software, such as Lookout Mobile Security, available for Android, Windows and BlackBerry phones.

Reprinted with permission. All Contents ©2011 The Kiplinger Washington Editors. www.kiplinger.com.
.