I love to pass this on as this is our market today. Meghan Knoy Does a great job call her it you have questions.
Last Week in Review


"GOOD COMMUNICATION IS AS STIMULATING AS BLACK COFFEE...AND JUST AS HARD TO SLEEP AFTER." Anne Morrow Lindbergh And communication on the new $789 Billion Stimulus Plan has been flying fierce over the past week, resulting in late nights for Congress and probably more than a few cups of coffee. President Obama is certainly hoping the new plan will wake up the struggling economy, and breathe some life back into the housing market as well.
The tax credit in the Stimulus Bill has been scaled down to $8,000 from its previous level of $15,000, or 10% of the value of the home for any first time homebuyers who purchase homes from the start of the year until the end of November. It starts phasing out for couples with incomes above $150,000 and single filers with incomes above $75,000, and buyers will have to repay the credit if they sell their homes within three years.
In addition, there's news that the Obama administration is trying to hammer out a new program to subsidize mortgages to fight the credit crisis. The plan would seek to help homeowners before they fall into arrears on their loans, whereas current programs only assist borrowers that are already delinquent. There are no details yet on this plan, but I will be monitoring this news closely in the weeks ahead.
There was some unexpected good news last Thursday, as Retail Sales increased in January for the first time in 7 months, as you can see in the chart below. It could take some time for the Stimulus Plan to positively impact the economy, but if it works, the improvement in Retail Sales could continue later in the year.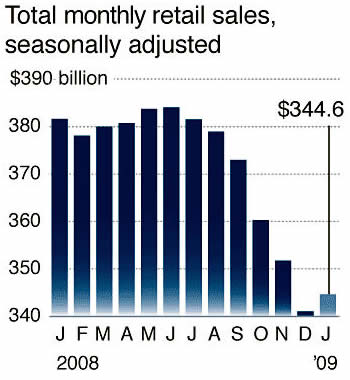 The Bond market closed early on Friday in advance of the President's Day holiday. Bonds and home loan rates had improved a bit early in the week, but lost their ground late in the week, and ended slightly worse than where they began.
THE TAX MAN COMETH...YES, IT'S THAT TIME OF YEAR AGAIN. CHECK OUT THIS WEEK'S MORTGAGE MARKET VIEW FOR SOME STIMULATING INFORMATION ON DEDUCTIONS THAT COULD INCREASE YOUR REFUND...AND MAKE TAX TIME A LITTLE EASIER!
Forecast for the Week


Remember that the markets will have a holiday shortened week, as they will be closed on Monday in honor of President's Day. But that doesn't mean the rest of the week will be a vacation from volatility, as there are several interesting reports in store.
We'll get news on the inflation (or deflation) front, with Thursday's Producer Price Index (PPI) Report and Friday's Consumer Price Index (CPI) Report. With the recent concerns about deflation, it will be important to see which way these reports have moved, and what the impact may be on home loan rates.
Also this week, we'll get a read on the new construction housing market with Wednesday's Housing Starts and Building Permits Reports. And on Thursday, the Philadelphia Fed Report will be released. This monthly survey of manufacturing purchasing managers conducting business around the tri-state area of Pennsylvania, New Jersey, and Delaware is one of the most-watched manufacturing reports, and given the state of the economy, this is likely to be a negative report.
Weak economic news normally helps Bonds and home loan rates improve, as money flows out of Stocks and into Bonds...however, not all investors are passing on their gains recently, as so many homeowners and homebuyers are taking advantage of current low interest rates and have flooded many investors to capacity. Call me to determine if the current market presents opportunity for you.
As you can see in the chart below, Bonds and home loan rates faced some tough technical resistance last week, which hampered the way to finding improvement. As always, I will be watching closely to see what happens this week.
Chart: Fannie Mae 4.5% Mortgage Bond (Friday Feb 13, 2009)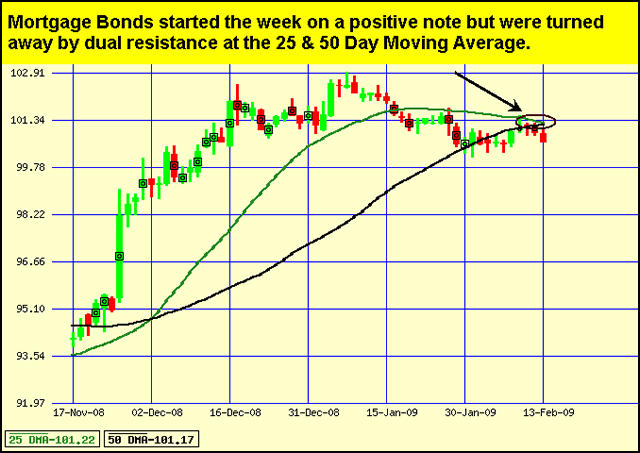 The Mortgage Market View...


No one ever wants to pay more taxes than necessary, but this year it's even more important to save every penny you can. Here are some tips that can help you get a larger refund:
Property Tax Deduction for Non-Itemizers: Before 2008, only people who itemized their deductions could deduct property taxes. For 2008, individuals who do not itemize can deduct up to $1,000 of property tax on a joint return or $500 on a single return.
Driving Deductions: The IRS increased the cents-per-mile deduction for business-related driving expenses from 50.5 cents to 58.5 cents from July 1, 2008 through December 31, 2008. They also increased the rate for deducting medical and moving driving-related expenses from 19 cents to 27 cents for that same time period.
Disaster Losses: Casualty losses (i.e. like those from storm or fire damage) are normally deductible only to the extent they exceed 10% of AGI. For 2008, casualties in federally declared disaster areas can be deducted without having to abide by the 10%-of-AGI rule, which raises the amount that is deductible.
Capital Losses: Review your portfolio and note all your realized losses for 2008. You can write these off against capital gains and you can have a net loss of up to $3,000 deductible against your salary and other ordinary income. What's more, any excess can be used to offset gains or can be deducted in 2009 or later years.
Retirement Plan Contributions: You can make tax-saving contributions to retirement plans for 2008 through April 15, 2009.
Charitable Donations: Not only can you claim deductions for money and items you donate to a charity, you can also claim deductions for expenses you incur on a charity's behalf (i.e. driving costs, printing costs, long distance phone call costs, etc.).
Make sure you take time to go through your records carefully so you receive the biggest refund possible. And if you are looking for a great tax professional to help you, please let me know and I'll be happy to recommend someone.
The Week's Economic Indicator Calendar


Remember, as a general rule, weaker than expected economic data is good for rates, while positive data causes rates to rise.
Economic Calendar for the Week of February 16 – February 20
| | | | | | | | |
| --- | --- | --- | --- | --- | --- | --- | --- |
| Date | ET | Economic Report | For | Estimate | Actual | Prior | Impact |
| Tue. February 17 | 08:30 | Empire State Index | Feb | -24.0 | | -22.0 | Moderate |
| Wed. February 18 | 02:00 | FOMC Minutes | 1/28 | | | | HIGH |
| Wed. February 18 | 09:15 | Industrial Production | Jan | -1.4% | | -2.0% | Moderate |
| Wed. February 18 | 09:15 | Capacity Utilization | Jan | 72.5% | | 73.6% | Moderate |
| Wed. February 18 | 08:30 | Housing Starts | Jan | 530K | | 550K | Moderate |
| Wed. February 18 | 08:30 | Building Permits | Jan | 525K | | 547K | Moderate |
| Thu. February 19 | 10:00 | Philadelphia Fed Index | Feb | -25.0 | | -24.3 | HIGH |
| Thu. February 19 | 10:00 | Index of Leading Econ Ind (LEI) | Jan | -0.1% | | 0.3% | Low |
| Thu. February 19 | 08:30 | Jobless Claims (Initial) | 2/14 | 615K | | 623K | Moderate |
| Thu. February 19 | 08:30 | Core Producer Price Index (PPI) | Jan | 0.1% | | 0.2% | Moderate |
| Thu. February 19 | 10:30 | Crude Inventories | 2/13 | NA | | 4.72M | Moderate |
| Thu. February 19 | 08:30 | Producer Price Index (PPI) | Jan | 0.2% | | -1.9% | Moderate |
| Fri. February 20 | 08:30 | Consumer Price Index (CPI) | Jan | 0.3% | | -0.7% | HIGH |
| Fri. February 20 | 08:30 | Core Consumer Price Index (CPI) | Jan | 0.1% | | 0.0% | HIGH |
The material contained in this newsletter is provided by a third party to real estate, financial services and other professionals only for their use and the use of their clients. The material provided is for informational and educational purposes only and should not be construed as investment and/or mortgage advice. Although the material is deemed to be accurate and reliable, we do not make any representations as to its accuracy or completeness and as a result, there is no guarantee it is not without errors.
As your trusted advisor, I am sending you the MMG WEEKLY because I am committed to keeping you updated on the economic events that impact interest rates and how they may affect you.
Meghan Knoy
115 E Goodwin Street Suite C
Prescott, AZ 86303