Last Week in Review


"I WILL ACT NOW. I WILL ACT NOW. I WILL ACT NOW." Og Mandino. And acting now - more than once - is exactly what Congress and the President did last week, as two major economic plans were released that impact the mortgage and housing industries.
The first plan, the Economic Stimulus Plan for 2009, was finally approved by Congress and signed by President Obama. In addition, the President unveiled the initial details of his Homeowner Affordability and Stability Plan, which is designed to help stabilize the housing market and keep millions of borrowers in their homes. Many of the details of these plans are still being worked out, but read this week's Mortgage Market View article below for an overview of some benefits that may impact you.
In other news, the Stock market plunged last week on continued fears of a deepening recession, a failing banking system, weak corporate earnings and forecasts. The 113 year old Dow Jones Industrial Average closed the week down almost 7%, reaching a six-year low, which you can see in the chart below.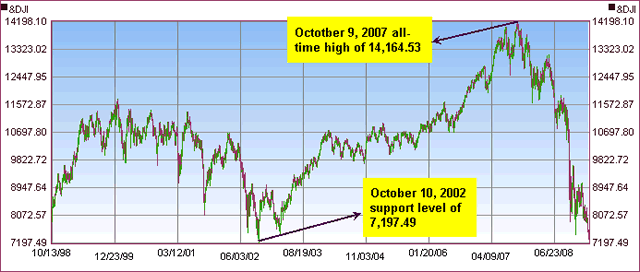 Not accounting for dividends, the Dow is at a level equal to what it was twelve years ago. Oftentimes Stock prices rebound once previous lows are tested...so let's hope that happens now, as the Stock market is due for a rally! The plunge in the Stock market did not lead to any significant improvement for Bonds or home loans rates last week, but the week ended with Bonds and home loan rates unchanged to slightly better from where they began.
THE NEW INITIATIVES THAT WERE ENACTED THIS WEEK COULD MEAN NOW IS A GREAT TIME FOR YOU TO TAKE ACTION ON YOUR HOME LOAN! CHECK OUT THIS WEEK'S MORTGAGE MARKET VIEW FOR MORE DETAILS!
Forecast for the Week


Several reports could cause some action in the markets this week. First, we'll get a look at the housing market with Wednesday's Existing Home Sales Report and Thursday's New Home Sales Report.
Thursday also brings the Durable Goods Report (i.e. items that are non-disposable, like cars, furniture, appliances, games, cameras, business equipment, etc), which will give us a read on consumer and business consumption and buying behavior. And we can't ignore Friday's Gross Domestic Product (GDP) Report, as GDP is the broadest measure of economic activity. Given the state of our economy, it might not be too much of a surprise if these reports are negative.
Remember: Weak economic news normally helps Bonds and home loan rates improve, as money flows out of Stocks and into Bonds. When Bond prices move higher, home loan rates move lower. As you can see in the chart below, Bonds and home loan rates continue to face some tough technical resistance overhead, hindering their path to improvement. I will be watching closely to see what happens this week.
Chart: Fannie Mae 4.5% Mortgage Bond (Friday Feb 20, 2009)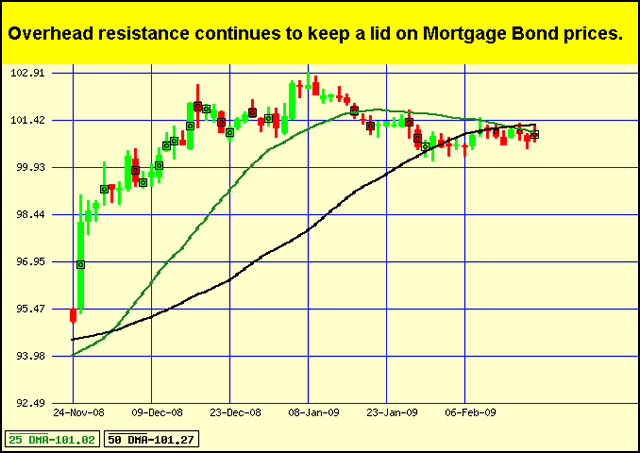 The Mortgage Market View...


Here is an overview of some benefits of the Economic Stimulus Plan for 2009 and the Homeowner Affordability and Stability Plan that may impact you.
Stimulus Plan - Tax Credit for Homebuyers
The $787 Billion stimulus bill is made up of tax cuts and spending programs aimed at reviving the US economy. Although the package was scaled down from nearly $1 Trillion, it still stands as the largest anti-recession effort since World War II. One of the major benefits of the plan is a tax credit for new homebuyers. According to the plan, first-time homebuyers who purchase homes from the start of the year until the end of November 2009 may be eligible for the lower of an $8,000 or 10% of the value of the home tax credit.
It's important to remember that the $8,000 tax credit is just that... a tax credit. The benefit of a tax credit is that it's a dollar-for-dollar tax reduction, rather than a reduction in a tax liability that would only save you $1,000 to $1,500 when all was said and done. So, if you were to owe $8,000 in income taxes and would qualify for the $8,000 tax credit, you would owe nothing.
Better still, the tax credit is refundable, which means you can receive a check for the credit even if you have little income tax liability. For example, if you're liable for $4,000 in income tax, you can offset that $4,000 with half of the tax credit... and still receive a check for the remaining $4,000!
The tax credit starts phasing out for couples with incomes above $150,000 and single filers with incomes above $75,000.
The tax credit is applicable to any home that will be used as a principle residence. Based on that guideline, qualifying "homes" include single-family detached homes, as well as attached homes such as townhouses and condominiums. In addition, manufactured or homes and houseboats used for principle residence also qualify. Buyers will have to repay the credit if they sell their homes within three years.
While details are sketchy - we will expect to get some clarity soon as to an additional tier of conforming loan amounts which had been first established in 2008. This tier of home loans are those greater than $417,000, and with a maximum that depends on the area, but is not greater than $729,750. These loans would be eligible for rates that are slightly higher than conforming loan rates, but less expensive than the standard "jumbo" loan rates.
Homeowner Affordability and Stability Plan
President Obama unveiled his plan to help stabilize the housing market and keep millions of borrowers in their homes. The Homeowner Affordability and Stability Plan includes two initiatives to help struggling homeowners. One is a refinancing program for homeowners with less than 20% equity in their homes, or who owe more than their home is worth. The second program attempts to lower monthly payments for homeowners at risk of losing their home. Many of the plan's details are still being worked out and will not be announced until March 4. Here is an overview of the plan's main components.
Refinancing Initiative
Under current rules, those families who own less than 20% equity in their homes have a difficult time refinancing and taking advantage of the historically low interest rates. This initiative is open to homeowners who have conforming loans which are guaranteed by Fannie Mae and Freddie Mac, and who owe up to 5% more than their home is worth.
According to the plan, "credit-worthy" or "responsible" homeowners can refinance their mortgage into a 30- or 15-year, fixed-rate loan based on current market rates. The refinanced loan, however, cannot include prepayment penalties or balloon payments. For many families, this low-cost refinancing may help reduce their mortgage payments by up to thousands of dollars per year.
As with the rest of the plan, details about this initiative will be released at a future date--including what, if any, credit score requirements will be included.
Stability Initiative
This initiative aims at providing help to individual families as well as entire neighborhoods by helping reduce foreclosures and stabilize home prices. It is intended to help homeowners who are struggling to afford their mortgage payments, but cannot sell their homes because prices have fallen significantly.
The goal of this initiative is simple: "reduce the amount homeowners owe per month to sustainable levels." To accomplish this, lenders are encouraged to lower homeowners' payments to 31% of their income by lowering their interest rate to as low as 2% or by extending the terms of the loan. In addition, lenders can also lower the principal owed by the borrower, with Treasury sharing in the costs.
Homeowners who are current on their mortgages but are struggling can still apply for this program. As such, this is one of the few programs designed to help homeowners who may face delinquency soon, but are current at the moment.
This initiative also includes a number of additional elements and incentives, including an extra incentive for borrowers to keep paying on time. The initiative will provide a monthly balance reduction payment that goes straight towards reducing the principal balance of the mortgage loan. As long as a borrower stays current on his or her loan, he or she can get up to $1,000 each year for five years.
Since the focus of this initiative is on helping families and neighborhoods, investment properties do not qualify.
The Week's Economic Indicator Calendar

Remember, as a general rule, weaker than expected economic data is good for rates, while positive data causes rates to rise.
Economic Calendar for the Week of February 23 – February 27
| | | | | | | | |
| --- | --- | --- | --- | --- | --- | --- | --- |
| Date | ET | Economic Report | For | Estimate | Actual | Prior | Impact |
| Tue. February 24 | 10:00 | Consumer Confidence | Feb | 36.0 | | 37.7 | Moderate |
| Wed. February 25 | 10:00 | Existing Home Sales | Jan | 4.81M | | 4.74M | Moderate |
| Thu. February 26 | 10:00 | New Home Sales | Jan | 329K | | 331K | Moderate |
| Thu. February 26 | 08:30 | Jobless Claims (Initial) | 2/21 | NA | | 627K | Moderate |
| Thu. February 26 | 08:30 | Durable Goods Orders | Jan | -2.3% | | -2.6% | Moderate |
| Thu. February 26 | 08:30 | Crude Inventories | 2/20 | NA | | -138K | Moderate |
| Fri. February 27 | 08:30 | Gross Domestic Product (GDP) | Q4 | -5.4% | | -3.8% | Moderate |
| Fri. February 27 | 08:30 | GDP Chain Deflator | Q4 | -0.1% | | -0.1% | Moderate |
| Fri. February 27 | 09:45 | Chicago PMI | Feb | 34.0 | | 33.3 | HIGH |
| Fri. February 27 | 10:00 | Consumer Sentiment Index (UoM) | Feb | 36.0 | | 37.7 | Moderate |
Meghan Knoy
115 E Goodwin Street Suite C
Prescott, AZ 86303