Last Week in Review


THEY SAY "NO NEWS IS GOOD NEWS"...and that sentiment was particularly true last week, as several pieces of news that arrived were far from good.
On Friday, the Labor Department reported that 598,000 jobs were lost in January. This was worse than expectations of 540,000 jobs lost, and is the worst number since December 1974. Overall, about 3.6 Million jobs have been lost since December 2007, with nearly half of them in just the past three months. And you can see this clearly in the chart below, which looks unusual because it's measuring a negative number, for something that is normally reported as a positive (i.e. the number of jobs created). The rate of unemployment jumped to 7.6%, but the number of part-time workers increased dramatically as well. Many part-time workers would rather be full-time, but are simply taking what they can get. Added up, the number of underutilized workers now represent over 15% of the workforce overall. Let's hope the Stimulus Plan spurs some job growth.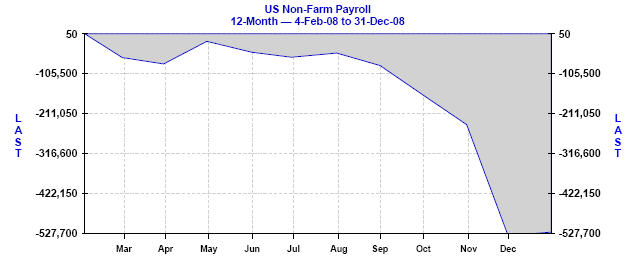 And with last Monday's news that the Personal Consumption Expenditure (PCE) index reported its smallest gain in five years, the argument of inflation being a threat to the economy has taken a back seat for now. While that may sound like good news, the bigger topic for the moment is the threat of deflation in the near term. Why is deflation considered worse? Deflation kills the over-all economy, as there is no incentive to spend today when prices look as if they'll be getting cheaper in the future. This consumer mind-set obviously destroys product sales, and in turn, adds to the already dismal amount of job losses. If deflation takes hold, the fear is that it can lead to a devastating economic cycle.
However, there was some possible good news from last week. There was renewed talk about relaxing the "mark-to-market" accounting rules, which is not only vital to the economy, but also to the mortgage industry as lenders need the ability to lend for the mortgage and housing industry to recover and thrive. "Mark-to-Market" rules led to the failure of many financial institutions that really weren't in bad shape, but simply made them appear to be over leveraged as they were forced to value their assets against distressed institutions selling assets at steep discounts. It will be important to watch this news story in the weeks ahead.
And when all was said and done, the news of the week wasn't so horrible for Bonds and home loan rates, as they ended the volatile week only slightly worse than where they began.
HAVE YOU BEEN THINKING OF BUYING A HOME OR REFINANCING YOUR LOAN? CHECK OUT THIS WEEK'S MORTGAGE MARKET VIEW TO MAKE SURE YOU AVOID A VERY COSTLY MISTAKE!
Forecast for the Week


This week is a quiet one when it comes to scheduled economic reports being delivered, but there's still plenty of news that could shake the markets, including updates on the Stimulus Plan still making its way through Congress, as well as the aforementioned mark-to-market rule. It should be noted that Stock prices, especially within the financial sector, have reacted very well anytime there is a mention of a possible relaxation of mark-to-market accounting.
In the way of economic reports, Thursday will bring the Retail Sales Report for January. Since many retailers are still struggling, as consumers continue to rein in spending, it wouldn't be a surprise if this is a horrible report...which could be friendly for Bonds and home loan rates. It also wouldn't be a surprise for Friday's Consumer Sentiment Report to be horrible as well. And given the current job market, Thursday's weekly Jobless Claims Report will be another one to watch.
Remember: Weak economic news normally helps Bonds and home loan rates improve, as money flows out of Stocks and into Bonds. As you can see in the chart below, Bonds and home loan rates have lost some ground and worsened in recent weeks. I will be watching closely to see what happens this week.
Chart: Fannie Mae 4.5% Mortgage Bond (Friday Feb 06, 2009)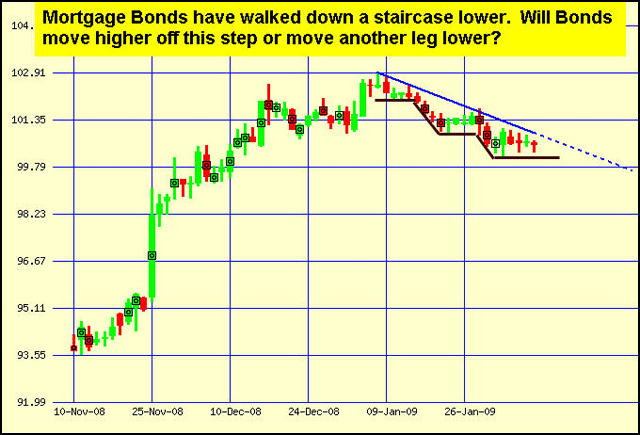 The Mortgage Market View...


If you've been following the financial news, you've probably heard that the Fed's been buying Mortgage Backed Securities and will continue to do so as needed. Unfortunately, some media outlets have picked up on the news and mistakenly reported that these purchases will continue to cause rates to drop lower into the summer.
But is that really what it means? No.
The truth is, the Fed has been buying Mortgage Bonds. BUT... more precisely, they're buying a lot of FNMA 30-yr 5.0% and 5.5% Bonds. Many of the mortgages in these pools are outstanding home loans with rates between 6.0% and 6.5%, as the rate that a borrower pays is different than the coupon rate given to an investor buying into that mortgage pool, with the difference being taken by Wall Street firms and government agencies. The loans in these pools the Fed is buying hand over fist are likely be refinanced and paid - because current rates make it very attractive to refinance a loan over 6.0% - and thus giving the Fed a quick recoup on some of their investment.
Bottom line: The Fed's purchase of higher rate coupons will not necessarily help rates to move lower, as their actions do not impact the loans being originated at today's low rates.
The Problem Is...
Many consumers are in situations where they can refinance now and save hundreds of dollars a month on their mortgage payments. But when they hear the media throwing around teases of lower rates ahead, they decide to hold off on making the decision to save, in the hopes of gaining a few more dollars of savings per month if a lower rate came their way. Of course, while they're waiting, rates could turn higher - and this window of opportunity could pass them by entirely.
Here's the Clincher.
Even if consumers are ultimately able to time the market perfectly and save another few bucks per month, they could still end up losing. That's because while they delayed, they lost the savings each month they could have gained by taking action sooner. In other words, they may have lost hundreds of dollars for every month they waited. So even if they got lucky and obtained the rate they were looking for, it could take years to make up what they lost by waiting.
I don't want anyone to miss an opportunity by either waiting or misunderstanding the media headline. Let's talk further on this. Call or email me, and let's discuss what this might mean for you.
The Week's Economic Indicator Calendar

Remember, as a general rule, weaker than expected economic data is good for rates, while positive data causes rates to rise.
Economic Calendar for the Week of February 09 – February 13
| | | | | | | | |
| --- | --- | --- | --- | --- | --- | --- | --- |
| Date | ET | Economic Report | For | Estimate | Actual | Prior | Impact |
| Wed. February 11 | 08:30 | Balance of Trade | Dec | -$37.0B | | -$40.4B | Moderate |
| Wed. February 11 | 10:30 | Crude Inventories | 2/06 | NA | | NA | Moderate |
| Thu. February 12 | 08:30 | Jobless Claims (Initial) | 2./07 | NA | | NA | Moderate |
| Thu. February 12 | 08:30 | Retail Sales | Jan | -0.3% | | -2.7% | HIGH |
| Thu. February 12 | 08:30 | Retail Sales ex-auto | Jan | -0.4% | | -3.1% | HIGH |
| Fri. February 13 | 10:00 | Consumer Sentiment Index (UoM) | Feb | 61.5 | | 61.2 | Moderate |
The material contained in this newsletter is provided by a third party to real estate, financial services and other professionals only for their use and the use of their clients. The material provided is for informational and educational purposes only and should not be construed as investment and/or mortgage advice. Although the material is deemed to be accurate and reliable, we do not make any representations as to its accuracy or completeness and as a result, there is no guarantee it is not without errors.
As your trusted advisor, I am sending you the MMG WEEKLY because I am committed to keeping you updated on the economic events that impact interest rates and how they may affect you.
In the unlikely event that you no longer wish to receive these valuable market updates, please USE THIS LINK or email: MKnoy@ccmclending.com
If you prefer to send your removal request by mail the address is:
Meghan Knoy
115 E Goodwin Street Suite C
Prescott, AZ 86303