Last Week in Review


"HAVE THE NERVE TO GO INTO UNEXPLORED TERRITORY." Alan Alda. Taking those words to heart, Bonds and home loan rates did exactly that last week, reaching historic levels.
A few important news items from last week... First, the results are in on the Fed's first run at purchasing Mortgage Backed Securities under their new $500 Billion buying program. Over the last week, the Fed bought $10.2 Billion of Mortgage Backed Securities. Any time there is increased buying demand - for anything - prices will move higher. When Bond prices move higher, home loan rates improve.
Next, Stocks faced selling pressure last week due to a rash of earnings warnings from the nation's retailers, including Macy's, who announced they are closing eleven stores. Because money coming out of Stocks is often parked over into the Bond market, Bonds and home loan rates responded by reaching never-before-seen levels.
Finally, the job market reached a level not seen since 1945. The Labor Department reported on Friday that there were 524,000 jobs lost during the month of December, which you can see in the Jobs Report chart below. Why does the chart look unusual? Because it's measuring a negative number, for something that is normally reported as a positive, as in number of jobs created.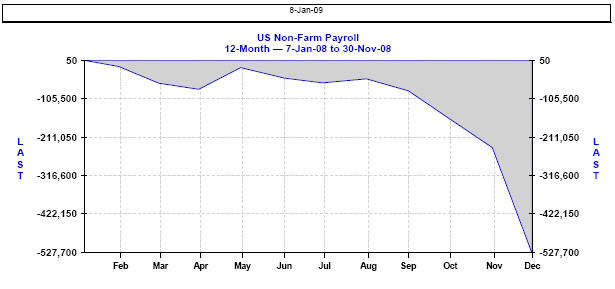 All told, there were 2,600,000 jobs lost in 2008, which represents the biggest job loss in any calendar year since 1945, when 2,750,000 jobs were lost as the wartime economy was demobilized. But we must consider that there are a lot more people in the US today. Adding further sting to the report was the Unemployment Rate, which shot up higher than expectations to 7.2%, the highest reading in 16 years.
As we know...Bonds and home loan rates typically improve on negative economic news, since money will flow out of Stocks and into Bonds when bad news hits the wires. But keep in mind, these are volatile times - and it's hard to know how long the good times will last for home loan rates. Regardless of if you see a move or a refinance in your future, let's review your situation to determine if any decisions need to be made at this time.
2009 IS LARGELY UNEXPLORED TERRITORY AT THIS POINT...ARE YOU READY? SEE THIS WEEK'S MORTGAGE MARKET VIEW FOR FIVE QUICK TIPS YOU CAN ACT ON RIGHT NOW, TO GET ORGANIZED AND SAVE SOME MONEY TOO!
Forecast for the Week

The Fed's purchasing program will continue to be something to watch in the weeks and months ahead, and there are also several reports that may impact whether Bonds and rates continue to explore new territory during this coming week.
On Wednesday, we will see the Retail Sales Report for December, and since many retailers have already said this holiday season was the worst in a long time, it wouldn't be a surprise if this is a horrible report...which could be friendly for Bonds and home loan rates.
This week also brings news on the inflation (or deflation) front, with Thursday's wholesale measuring Producer Price Index (PPI) Report and Friday's Consumer Price Index (CPI) Report. With the recent concerns on deflation, it will be important to see which way these reports have moved, and what the impact may be on home loan rates.
The Mortgage Market View...


Now that the holidays are over and a new year has begun, now is the perfect time to make sure you are ready for 2009. Here are five things you should do this month that will make your life easier in the months ahead:
Clean Out the Clutter:

You keep saying you'll do it...go ahead and do it. Spend an hour going through your old files, and shred those receipts, bills, and statements you no longer need, like old ATM receipts and utility bills, paystubs more than a year old, and receipts for things that are not deductible.

Get Organized:

While you're at it, create new files for your 2009 tax-related papers and receipts. Examples of categories include medical expenses, gift and charitable donations, and home improvements.

Check the Gift Card Fine Print:

If you received gift cards as a present over the holidays, use them soon. Some have expiration dates, or the amount on the card may get reduced over time. In addition, in the current economy, retailers that go out of business may not honor gift cards.

Do Some Review:

Review your various insurance policies - life, home, auto, etc - to make sure the coverage you have is still the best fit for your needs and situation. To save on cash out of pocket, you might even consider raising your deductible to get a lower premium.

Do Some Reflection:

Take an honest look at your schedule and responsibilities and make sure you are taking the time you need to stay healthy and feel good. Don't feel bad about actually scheduling specific blocks of time to exercise or spend special time with family and friends, to ensure it actually happens. This will make everything else you have to do this year easier...and more enjoyable, too!
The Week's Economic Indicator Calendar

Remember, as a general rule, weaker than expected economic data is good for rates, while positive data causes rates to rise.
Economic Calendar for the Week of January 12 – January 16
| | | | | | | | |
| --- | --- | --- | --- | --- | --- | --- | --- |
| Date | ET | Economic Report | For | Estimate | Actual | Prior | Impact |
| Wed. January 14 | 08:30 | Retail Sales | Dec | -1.1% | | -1.8% | Moderate |
| Wed. January 14 | 08:30 | Retail Sales ex-auto | Dec | -1.2% | | -1.6% | HIGH |
| Wed. January 14 | 10:30 | Crude Inventories | 1/09 | NA | | 6682K | Moderate |
| Thu. January 15 | 10:00 | Philadelphia Fed Index | Jan | -35.0 | | -32.9 | HIGH |
| Thu. January 15 | 08:30 | Jobless Claims (Initial) | 1/10 | NA | | 467K | Moderate |
| Thu. January 15 | 08:30 | Core Producer Price Index (PPI) | Dec | 0.1% | | 0.0% | Moderate |
| Thu. January 15 | 08:30 | Producer Price Index (PPI) | Dec | -1.9% | | -2.2% | Moderate |
| Fri. January 16 | 08:30 | Consumer Price Index (CPI) | Dec | -1.0% | | -1.7% | HIGH |
| Fri. January 16 | 08:30 | Core Consumer Price Index (CPI) | Dec | 0.1% | | 0.0% | HIGH |
| Fri. January 16 | 09:15 | Capacity Utilization | Dec | 74.7% | | 75.4% | Moderate |
| Fri. January 16 | 09:15 | Industrial Production | Dec | -0.8% | | -0.6% | Moderate |
| Fri. January 16 | 10:00 | Consumer Sentiment Index (UoM) | Jan | 60.0 | | 60.1 | Moderate |
The material contained in this newsletter is provided by a third party to real estate, financial services and other professionals only for their use and the use of their clients. The material provided is for informational and educational purposes only and should not be construed as investment and/or mortgage advice. Although the material is deemed to be accurate and reliable, we do not make any representations as to its accuracy or completeness and as a result, there is no guarantee it is not without errors.
Meghan Knoy
115 E Goodwin Street Suite C
Prescott, AZ 86303